〜20年以上放置されていた土地に・・・〜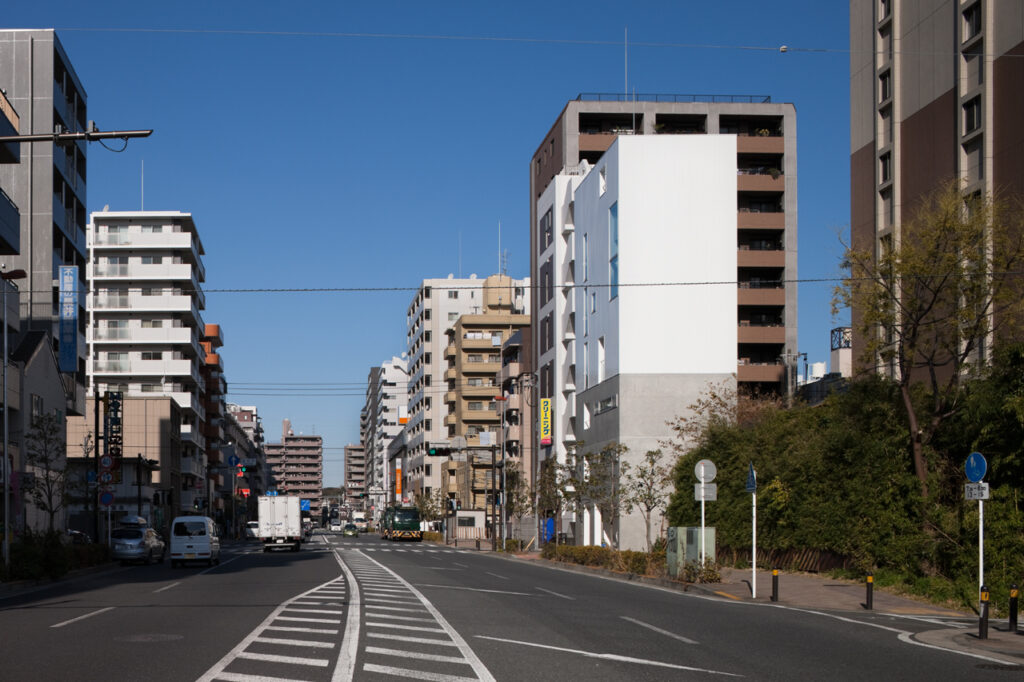 綱島街道が拡幅された際に切り残された土地が、20年以上に渡って放置されていました。
放置されていた土地の一部を偶然オークションで見つけ、落札。
土地の奥行きは約5m、間口は約10m。
地上6階+R階のGILIGILIを計画。
多摩川が近い(2019年10月には近隣は床上浸水の被害)ことと、綱島街道の交通騒音と振動を考慮して、3階(賃貸)まではRC造で4階から上は軽量溝型鋼の鉄骨パネル工法で建築することにして、2012年7月に無事竣工。
"世の中で放置されていた土地に、新しい技術による新しい建築を提案"
The land left behind when the Tsunashima Street was widened was left unattended for over 20 years.

I accidentally found a piece of abandoned land at an auction and made a successful bid.

The depth of the land is about 5m, and the frontage is about 10m.

Planning GILIGILI with 6 floors above ground + R floor.

Considering the proximity of the Tama River (in October 2019, the neighborhood was flooded above the floor) and the traffic noise and vibration of the Tsunashima Street, up to the 3rd floor (rental) is made of RC, and the 4th floor and above are made of lightweight grooved steel.It was decided to build using the steel frame panel construction method, and the construction was completed in July 2012.
"We propose a new construction using new technology on land that has been neglected in the world."